19th July 2019
Cambridge Filmworks new documentary set to Embrace Everest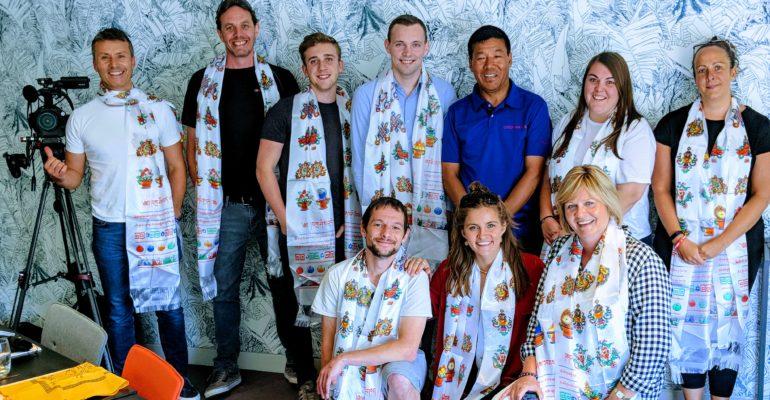 Cambridge Filmworks new documentary set to Embrace Everest
Cambridge Filmworks are producing a brand new television documentary with the charity Embrace.
Embrace is a national charity who's work solely focuses on supporting children, young people and families who are the victims of serious crime. They help them cope with what has happened, support their recovery and provide services that enable them to put events behind them, move on and fulfil their life's potential.
Now a group of these young people are taking on the challenge of a lifetime – an extreme, high-altitude trek to the roof of the world culminating at Everest base camp.
Along the way they will experience high altitude passes of over 5500m with the very real danger of acute mountain sickness, unpredictable terrain and weather, extreme culture shock and a route that only the most hard-core trekkers would ever dream of attempting.
For this group of novice young trekkers the journey will be as much an emotional challenge as a physical one as they attempt to overcome the traumas of their pasts to realise the dream of a lifetime. Each have their own personal mountains to conquer and serious emotional scars which need healing.
Everest has recently been at the heart of its own raging controversy with mountaineers overcrowding the peak resulting in a surge of deaths as well as pollution from expedition teams all racing to achieve the summit of the highest point on earth.
The young trekkers will find out first hand what gives the mountain its allure and what can be done to protect it. Interviews with expedition participants including 6-time Everest summiter Sherpa Dawa Geljen – a man who knows first hand the extreme dangers and overwhelming attraction of the mountain – will be both revealing and brutally honest.
Rhys, 23, a postgraduate student from Essex, suffered years of physical and sexual abuse as a child and was supported by Embrace through his recovery.
Now an avid fund-raiser and advocate for victims of childhood abuse, he has recently been appointed by Embrace as the charity's youngest ever Board member.
Set against the stunning backdrop of the Nepalese Himalayas, the film will tell his inspirational story as he treks with a group of Embrace charity fund-raisers to the highest point on earth.
"I want other young people who have suffered as I did to know that they can overcome their past and succeed. If my story helps even one person then it will be worthwhile," he said.
Chief Executive Anne Campbell said Rhys' role and forthcoming trek will further raise the voice for all young people impacted by crime.
"Rhys has overcome so much in his life through his own hard work and tenacity. He is an immense asset to our charity work and we know his outlook and experiences will fresh insight and challenge.
"His compelling story, documented by an innovative film crew, we have no doubt will further advance the voice for child victims of crime everywhere."
Embrace now supports more than 3,000 children and families affected by serious crime each year and operates in all parts of the UK and Northern Ireland, providing a range of therapeutic support.
This will be a genuine heart on the sleeve television documentary tackling issues of crime, child abuse and the heart breaking damage it causes to young people and their families. It will also be an inspiring story of how young people can overcome extreme adversity and rebuild their lives and futures.
To find out more about Embrace please visit: https://embracecvoc.org.uk/
Cambridge Filmworks
Cambridge Video Production
Get In Touch
"They are a joy to work with – very professional, very skilled and also great fun to work with which comes in very handy on those long shooting days!"
Contact