28th September 2021
The Cambridge KJV Family Chronicle Bible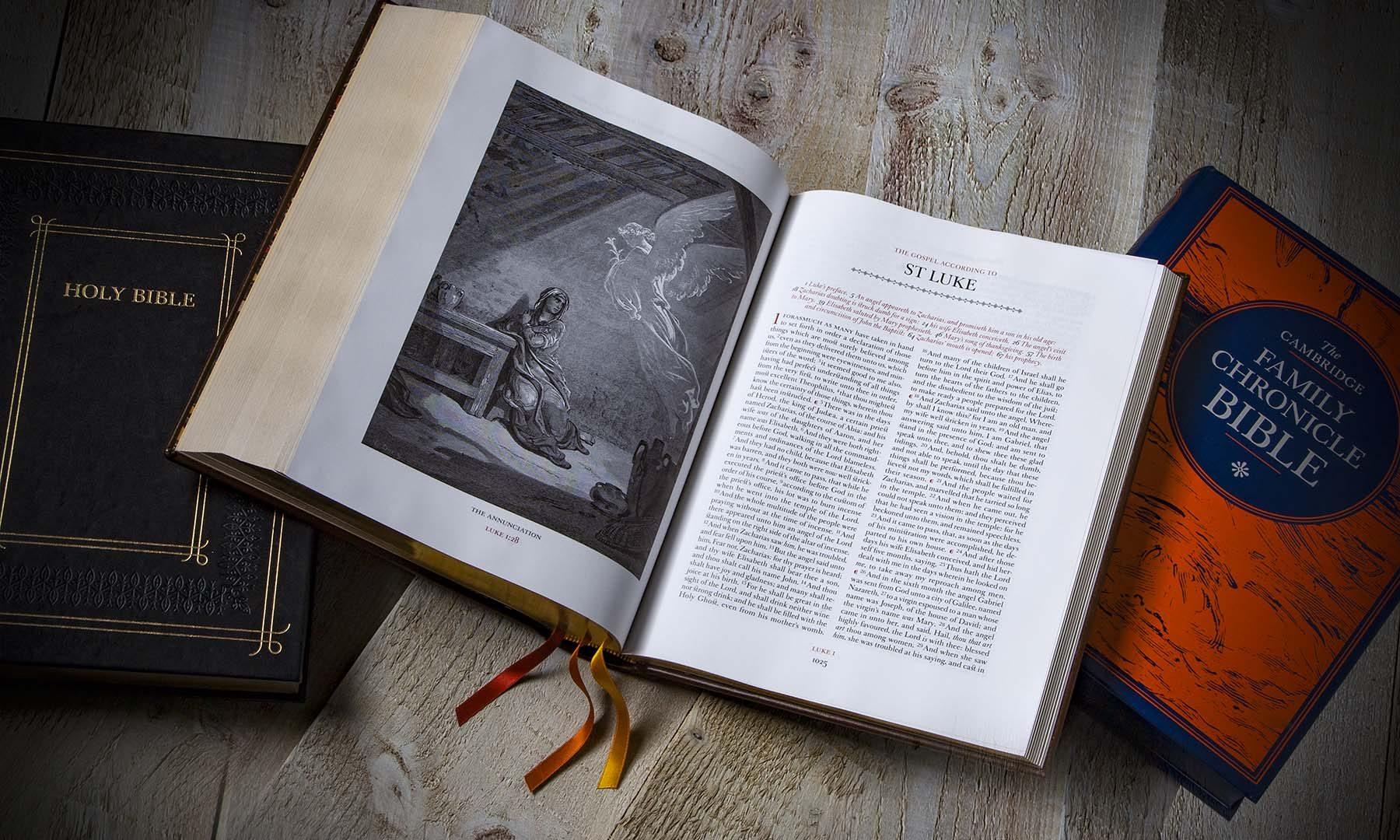 The Cambridge KJV Family Chronicle Bible
Cambridge Filmworks have partnered with Cambridge University Press to produce an introduction to the Cambridge KJV Family Chronicle Bible. This is a monumental piece of publishing combining Baskerville typography, illustrations by Gustave Dore, the majestic text of the King James Version, and an extensive family record section.
The Cambridge Family Chronicle Bible has been designed and produced as a Bible to enjoy for generations. It combines the best typographic design with the highest standards of printing and bookbinding.
The majestic text of the King James Bible is presented in a typesetting inspired by the legendary Baskerville Bible of 1763, and the words of Scripture are brought to life with over 200 engravings by 19th century illustrator Gustave Doré – painstakingly reproduced for this edition from the original printings.
Drawing on the glories of the past, but also looking to the future, this Bible incorporates a unique 14-page Family Chronicle section, allowing owners to tell their family story to future generations and record up to six generations of family history in clearly laid out sections – a traditional practice in earlier eras.
The Bible is printed on paper selected for its strength and durability, and bound in a choice of cloth and superior leathers. Each edition involves hand binding work, necessary due to its large size. The leather Bibles pay tribute to traditional bookbinding style, with ornate tooling on the covers and raised spine hubs. The cloth Bible has a contemporary look, with dramatic metallic foil blocking.
The concept was developed, the illustrations scanned and adjusted, and the books designed and typeset by 2K/Denmark. The Cambridge Family Chronicle Bible was typeset using Baskerville 1757 Pro adapted by Lars Bergquist in 2002.
This sumptuous Bible is completed with a stylish and extensive family record section, allowing its owners to make this Bible their own. This section has been printed on a heavier grade of paper, specially designed to stand up to handwritten notes. It includes pages for recording descendants, allowing the Bible to be handed down and used by successive generations.
This is a Bible to keep and to treasure at the heart of the family home for years to come.
To find out more, please visit: www.cambridge.org/bibles/familychronicle
Cambridge Filmworks
Cambridge Video Production
Get In Touch
"They are a joy to work with – very professional, very skilled and also great fun to work with which comes in very handy on those long shooting days!"
Contact